[Contents] [Home]
---

AnotekGreek Fonts
A monotonic Modern Greek font

The font is designed for use with WINDOWS95 or WIN3.1. Install it and select the AnotekGreek font in order to use it with your word processor. A keyboard map is included with the product. A character map can be found in the Accessories Programs of WINDOWS95. The font is also included free in our Greek Language CDROM titled Read and Speak Greek
Title: AnotekGreek Font
By: George N. Balanis, PhD, MBA and Toula Balanis, AA
Published by: Anotek, Inc.
Availability: 1 September 1996
A New Testament / Classical Greek font #1 or #2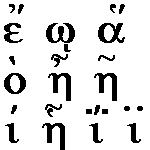 The font is designed for use with WINDOWS95 or WIN3.1. Install it and select the AnotekClassic font (file anotc___.ttf) or AnotekClsGrk (file anotcg__.ttf) ont in order to use it with your word processor. A keyboard map is included with the product. A character map can be found in the Accessories Programs of WINDOWS95.

Title: AnotekGreek Font
By: George N. Balanis, PhD, MBA and Toula Balanis, AA
Published by: Anotek, Inc.
Availability: 1 January 1998

New Testament / Classical Greek Keyboard Layout - AnotekClassic font

New Testament / Classical Greek Keyboard Layout - AnotekClsGrk font

To order, go to Ordering Form.

Sample of Customer Comments

* George and Fotini Sioris -USA - fotinis@aol.com (13 February 2001)


Thank you so much for e-mailing me the Classical and Biblical Greek Software program. It works great!. I have used it many times to type my Greek school materials. It makes it a lot easier to type all in Greek rather than use Symbol on Microsoft and then have to go through and add the tonous.

---
www.anotek.com/ANOTFONT.HTM -- Revised: 15 February 2005
Copyright © 1996 Anotek, Inc.
georgeb@anotek.com

---